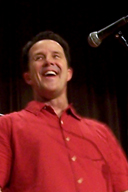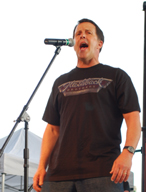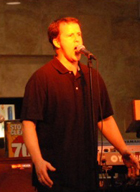 Sam Keele-Lead Vocal
Musical background: Sam Keele began his singing career in the back seat of his family's station wagon when he was 3 years old. His mother says he "has a real talent for singing…and can carry a tune real good. Whenever we are traveling we can always count on Sammy for entertainment".

Since then he has been a part of numerous choirs and choruses throughout his life. Most notably he sang in the award winning "Sounds of Liberty" in High School under the direction of Douglas Brenchley, who now heads the Latter-day Celebration at UVSC Institute of Religion in Orem Utah.

At Allan Hancock College he sang under the direction of Glen Montague, another award winning director and choir. These groups toured extensively throughout the US and Europe.

Sam served a mission in England during which time he performed with The Special Projects Team of the England Birmingham Mission. This included solos, duets, quartets and arranging.

In 1979 Sam auditioned for and joined the award winning "Grand Land Singers" under the direction of Douglas Brenchley. This was a singing and dancing group with emphasis on "God Family and Country".

In the eighties Sam formed "First Class", a top forty group which played for young adult dances, proms and parties throughout southern California and Nevada. This group played continuously for eight years and was in demand most of the time.

In the nineties, he formed another group, "The Sand Dudes", a doo-wop four part, mostly a capella group, which performed for parties and shows around the central coast of California. The Sand Dudes were popular monthly at the San Luis Obispo Farmers Market each month.

Now we have another great group- "The Flashback Brothers". More great musicians, more great songs, more great entertainment! Don't miss it. It is always an event.

Equipment: Sam has a Kurzweil PC88mx Keyboard that he plays through a Roland KC 350 amp. He also uses a Rythumtech Tambourine and Shakers. He sings through a Shure SM58 microphone.

---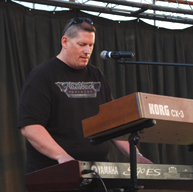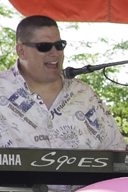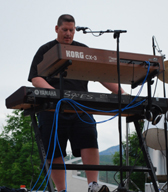 Randy Bills - Keyboards and vocals
Musical background: Randy has been playing keyboards since he was 9. He never had any formal training but plays by ear. In his younger days he was in a band called Pegasus where they played throughout Southern California. His favorite band is Steeley Dan. He loves playing classic rock with the Fabulous Flashback Brothers, however, his favorite music genre to play is jazz.

Equipment: Randy uses a Yamaha S90 ES 88 keybord and a Korg CX 3 keyboard through a Hartke 200 Watt and a Behringer 300 watt keyboard amp.

---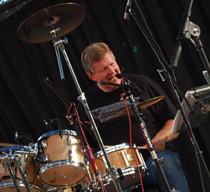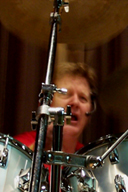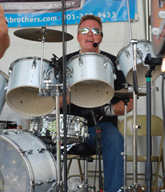 Joel Craft - Drums, Percussion and vocals
Musical background: As Joel tells it, shortly after he was born he got a spoon in his hand and he was pounding on his highchair and singing to the top of his lungs.

In High School he drummed and sang for several rock bands.

He went to Brigham Young University where he sang and danced for the Young Ambassadors.

After college he got involved in "Cambridge" an entertainment group where he went with them on a USO tour. He played for the US troops in Venezuela, Korea, Japan, Guam, Hawaii, Germany, Azores Island (off the coast of Portugal), Diego Garcia, and the Philipians.

Now he uses his skills to provide the beat and backing vocals for the Flashback brothers.

Equipment: Joel still uses his 80's drum set. This includes a 36" bass drum, 6", 8", 10", 12", 13", 14", 16", and 18" toms, and a snare. He has a host of cymblas including a 24" flat ride, 24" bell ride, 14" high hat and chimes.

---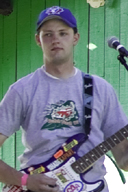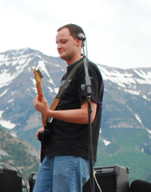 McKay Crockett - Ripping Guitar and vocals
Musical background: McKay is the youngest member of the Flashback Brothers. He has been playing guitar for about 9 years. He switched from piano to guitar because all the songs he liked were played on guitar. He loved playing along with the radio or CD's. He played in a Punk Rock cover band in High School. Then in another Punk band called, "Stop the Motorcade." McKay loves all kinds of music from Classical to Speed Metal. His two favorite bands are Weezer and The Living End. McKay loves his Fender Stratocaster, Fender American Telecaster and Washburn guitars amplified by Line 6 and Fender Blues Deluxe Reissue Amplifiers.

When I'm not making music: McKay is a Technician for Nuvont Communications.

---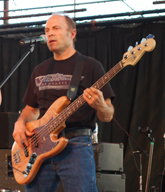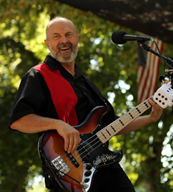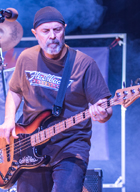 Steve Keele-Bass Guitar and vocals
Musical background: Music was an important part of Steves family growing up. In fact his parents met at a jam session. His mother made sure he and his sisters took piano lessons. After taking piano lessons for about 3 years he wanted to learn to play guitar. He still rememembers the first band he was in. It consisted of 3 guitars and a snare. Steve played rhythm, because he was the only guy in the group that knew how to play chords. They played "Hold Your Head Up." Nobody sang.

After playing rhythm guitar for several years, Steve switched to the bass. As a teen, He played and sang in several garage bands, was in the high school's concert choir and played guitar in their pop group, Totality. In college he studied art and played for dances with a band called Jukebox.

He has played bass in a folk group, Judy and the Rest and has done studio work for 2 of their CD's.

Steve is very excited to be a part of the Flashback Brothers and would like to thank his cousin, Sam for talking him into it.

Equipment: Steve plays a Fender Jazz bass powered through the incredible Mark Bass Mini CMD 121P amp and a Mark Bass New York 121 cab. He sings through a Shure SM58 microphone as used and recommended by Sam Keele. Steve has a custom all tube amp he co-made with his friend Mike Newman. Check it out here.

When I'm not making music: During the daylight hours Steve is a professional 2D and 3D illustrator/animator with several game and movie credits. Check out his work on www.keeleart.blogspot.com and instagram #s.keeleart
---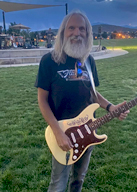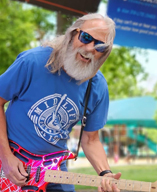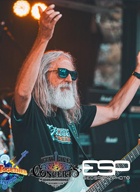 Mike Newman - Lead guitar and vocals
Musical background: Mike Newman has been playing guitar for more decades than he cares to admit and is accomplished in various styles. He has written several songs which are performed by this band. Mike plays a mean lead guitar and sings his own songs as well. He is also quite competent on the 5-string banjo and has toured Europe twice with the BYU folk dancers and again with a Salt Lake City based dance group. In the 70's he played with the bands Dandelion Wine and Salamander Sam. You can view his YouTube channel here!

Equipment: Mike collects guitars and amps as well as builds them.
Guitars: Bunker Guitars David Laurence Signature model (2), PRS McCarty, Gibson Les Paul Standard, Fender Stratcaster and Telecaster, various others.
Amps: Diamond Spitfire II, Engl Screamer, Handmade hot rodded JCM 800, Fender Super Reverb, various others
---






Former Flashback Brothers Members

---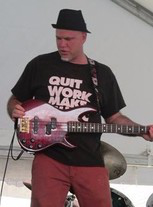 Mark Keele - Bass and General Warbling
Musical background: Mark started playing bass when he found out he was the worst guitar player in his junior high garage band. Since that time, he's played for sundry bands in a plethora of seedy bars throughout Utah with the occasional stops in Wendover, NV and Evanston, WY. Mark has shared the stage with a guitarist that opened for Diamond Rio and once talked to a guy who got an autograph from Barry Manilow. Mark LOVES playing with the talented members of the Flashback Brothers. In the immortal words of Tom Flannery, "If you want to make great music make sure you surround yourself with musicians who are better than you are." For the record, Mark WOULD be the youngest member of Flashback Brothers if it wasn't for that pesky McKay.

Equipment: Mark plays an early-90s Fender four-string P-Lyte bass. (For the record, five strings on an instrument is a banjo and six strings is a guitar….) Mark drives his pleasing tone with a Markbass CMD 151P and a Markbass New York 151 RJ 1x15 speaker cabinet. Any effects are purely coincidental.


---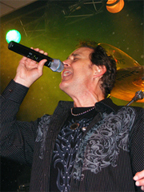 Rob Adamson - Lead Vocals
Musical background: Rob has been lead singer for many 'Classic Rock', 'Top 40' and other bands for over 25 years. Rob has shared the stage with international superstars such as: Vince Neil (Motley Crue), Y&T, Eric Martin (Mr. Big), Frank Hannon (Tesla) and Hugh McDonald (Bon Jovi).

Rob has a tenor voice that can go from clear to gravel in a moments notice adding great versatility to the the Flashback Brother's sound.

When you hear Rob sing you won't be sure if you are listening to Steve Perry, Lou Gramm, Brad Delp or Bon Jovi. Yeah, he's that good. br clear="all">
---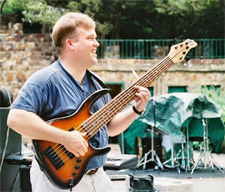 Tom Halversen-Bass Guitar
Musical background: Tom is an extremely accomplished bass player who can play a variety of music genres.

After college he got involved in "Cambridge" an entertainment group where he traveled with them on a USO tour with his fellow Flashback bandmate, Joel Craft. He played for the US troops in Venezuela, Korea, Japan, Guam, Hawaii, Germany, Azores Island (off the coast of Portugal), Diego Garcia, and the Philipians.

Tom is an accomplished Studio musician and is well-versed in Jazz improvisation and music composition. There are very few local bass players like this one.

---
---
Flashback Brothers, Always An Event
To Help Make Your Next Party or Event a Huge Success


---